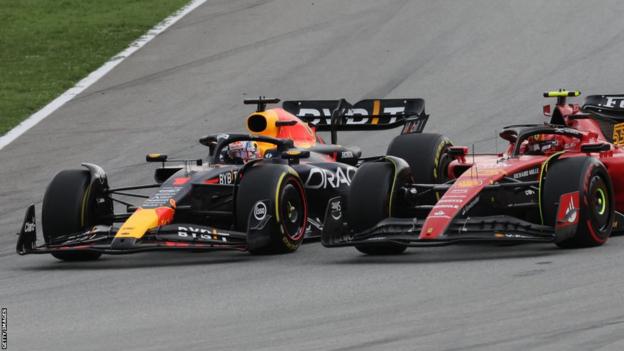 Red Bull's Max Verstappen cruised to a third consecutive victory, his fifth in seven races, to win the Spanish Grand Prix and take control of the season.
The Dutchman's 40th career victory extended his championship lead over team-mate Sergio Perez to 53 points.
Verstappen was followed home by Lewis Hamilton and George Russell on an encouraging day for Mercedes.
Russell faced a charge from Perez in the closing laps but held on for his first podium finish of the year.
Carlos Sainz slipped from second on the grid to fifth at the finish in the upgraded Ferrari, losing fourth to Perez in the closing stages.
Fernando Alonso charged up from 10th place after his final pit stop to pass three drivers to take seventh at the flag.
Alonso could have also passed Aston Martin team-mate Lance Stroll for sixth, but backed off and held position behind the Canadian, even going on to the radio to tell the team to let Stroll know there was "no risk" that he would try to overtake him.
Verstappen imperious again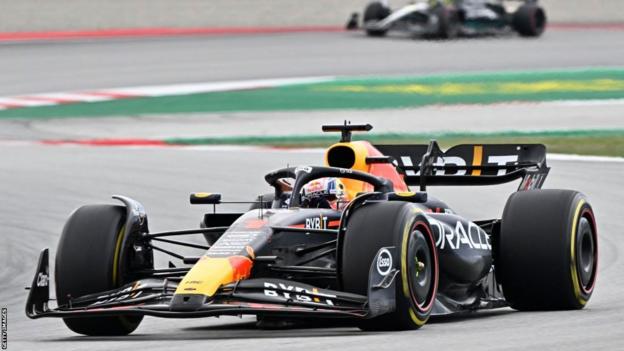 Verstappen had looked unbeatable from his first lap in Friday practice and proved to be exactly that in the race.
He faced a brief threat from Sainz, who made a better start and was side-by-side heading to the first corner, but the Spaniard thought better of a challenge on the outside and conceded the position.
From that moment on, Verstappen was untouchable.
Red Bull chose the medium tyre for both cars for the start unlike the soft on most of the other cars. That gave them the option of either a one-stop or a two-stop strategy.
They fitted the hard at his first stop and Verstappen could have gone to the end on that, but he decided he did not like it and swapped to the soft for a short final stint.
Verstappen's only concern was that he was given a black-and-white flag for exceeding track limits three times.
After that, he was warned not to risk going for the point for fastest lap, but he did it anyway – with success, of course.
A fillip for Mercedes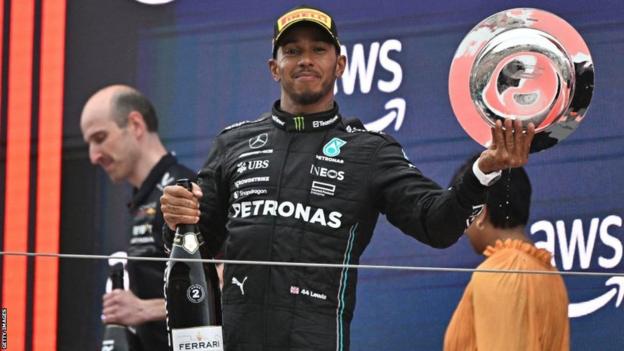 Behind Verstappen, Mercedes had a strong race to take the final two podium positions.
Hamilton tracked Sainz in the first stint before running longer to his first stop, coming out behind the Ferrari and then using his fresher tyres to overtake it, after which he had a comfortable run to the flag.
Behind him, Russell drove an excellent race from 12th on the grid.
He was investigated for gaining a couple of positions after taking to the escape road at the first corner, but escaped a penalty, then passed Alonso and the Alpine of Esteban Ocon to move up to fifth place in the first stint.
A later pit stop than Stroll moved him ahead of the Aston Martin and gave him the tyre advantage to chase down and pass Sainz, as Hamilton had done before.
A second pit stop later in the race for soft tyres looked to give him a chance to chase down Perez, who by then had moved up the field from 11th on the grid, for third.
Red Bull pitted Perez for fresh softs, which put him behind the Mercedes, but although he was faster in the closing laps he was unable to get close enough to threaten Russell, who finished three seconds ahead.
Sainz slipped back to fifth, but at least his day was better than that of team-mate Charles Leclerc, who made little progress from his pit-lane start after a poor qualifying session.
He did not seem to be helped by an odd strategy choice by Ferrari – pitting early into traffic despite choosing hard tyres for the start and a long first stint – and came home 11th, behind Ocon, Alfa Romeo's Zhou Guanyu and Alpine's Pierre Gasly. A post-mortem will undoubtedly follow at Maranello.
Alpha Tauri's Yuki Tsunoda finished ninth on the road but was penalised five seconds for forcing Zhou off the track and dropped to 12th at the chequered flag.