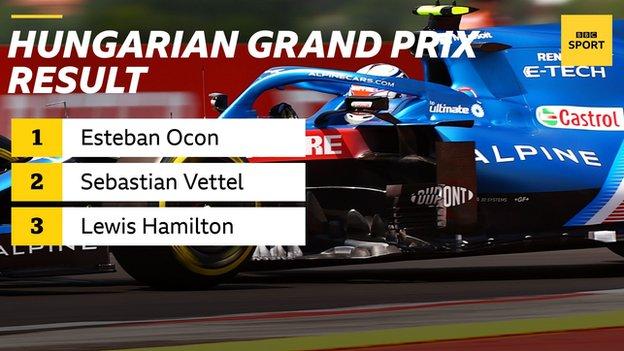 Alpine's Esteban Ocon took a maiden Formula 1 victory in an extraordinary and madcap Hungarian Grand Prix.
Lewis Hamilton regained the world championship lead for the first time since May after fighting back to third place after being last five laps into the race.
His title rival Max Verstappen was a victim of an incident-strewn wet start but managed to salvage a point for 10th place in a badly damaged Red Bull.
A race featuring an opening first few laps among the craziest in Formula 1 history left Hamilton with a six-point lead over Verstappen as the sport goes into its three-week summer break.
A pile-up at the first corner on a slippery track left Hamilton briefly leading Ocon and Aston Martin's Sebastian Vettel on the first lap before the race was red-flagged to clear up the mess strewn over the track.
Extraordinarily, when the race re-started, Hamilton was the only car on the grid for a second start as behind him every other driver made pit stops for dry-weather slick tyres because the sun had come out and the track was almost dry.
Hamilton had to stop at the end of the next lap, dropping to the tail of the field, leaving Ocon to fend off Vettel for the rest of the race.
Vettel tried to pass a number of times, but Ocon – a former Mercedes young driver – held on for the entire 70 laps to take a superb first win.
And Ocon's team-mate Fernando Alonso played an important role in securing there win for the Frenchman, as he defended valiantly against Hamilton for 10 laps in the closing stages of the race.
Hamilton, having fought his way back up to fourth place from last, made a pit stop with 23 laps to go to fit fresh tyres and make a bold bid for victory.
The Mercedes driver had the pace to make it happen and might have done, had Alonso not held him off for lap after lap with a display of tough race craft, a couple of times just on the edge of acceptability.
When Hamilton finally got past Alonso with five laps to go, he passed Ferrari's Carlos Sainz two laps later and charged up to the front two, finishing just 0.8secs behind Vettel, with Sainz fourth and Alonso fifth.
More to follow