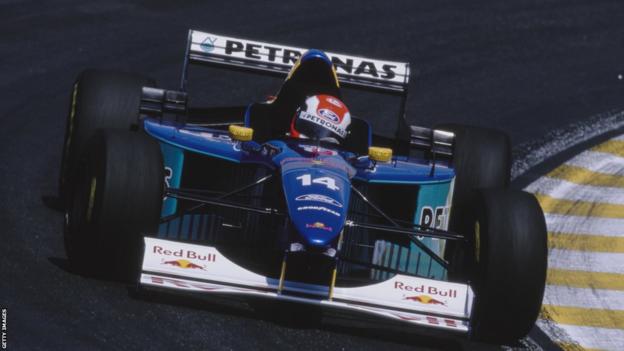 American car giant Ford is returning to Formula 1 with Red Bull after more than 22 years out of the sport.
The company will part-fund Red Bull's engine from 2026, replacing Honda.
The deal was announced as Red Bull revealed their new car livery for the 2023 F1 season at a launch event in New York on Friday.
"It's fantastic to be welcoming Ford back into Formula 1 through this partnership," said Red Bull team principal Christian Horner.
Ford, which was last in F1 in 2004, will work to develop the power unit for Red Bull and sister team AlphaTauri from 2026 to at least 2030.
Ford says one of the key reasons for its return is its "commitment to sustainability", which aligns with F1's pledge to be carbon neutral by 2030 and to introduce sustainable fuels in F1 cars from 2026.
The power unit will meet F1's new technical regulations, including a 350kW electric motor and a new combustion engine able to accept fully sustainable fuels.
"They are a manufacturer rich in motoring history that spans generations," added Horner. "From Jim Clark to Ayrton Senna and Michael Schumacher, the lineage speaks for itself.
"To open the next chapter of that dynasty, as Red Bull Ford, is tremendously exciting. 2026 is still a while a way, but for us the work already starts as we look to a new future and a continued evolution of Oracle Red Bull Racing."
Ford is the third most successful engine manufacturer in F1 history with 13 drivers' championships and 10 constructors' championships.
F1's popularity in the United States has soared in recent years with three races now on the 2023 calendar and the Las Vegas circuit making its debut this year.
Las Vegas will host its inaugural GP this season following the addition of Miami last year. And there is also the Circuit of the Americas in Texas, as the popularity of Formula 1 continues to grow.