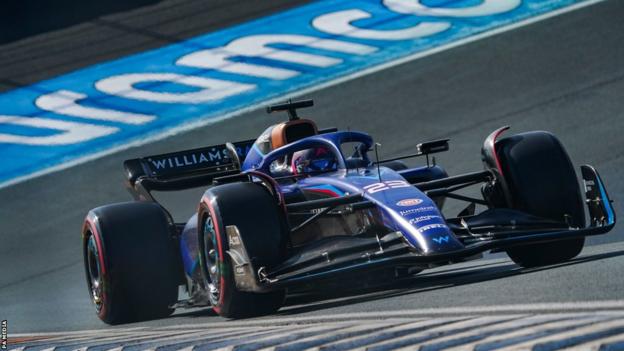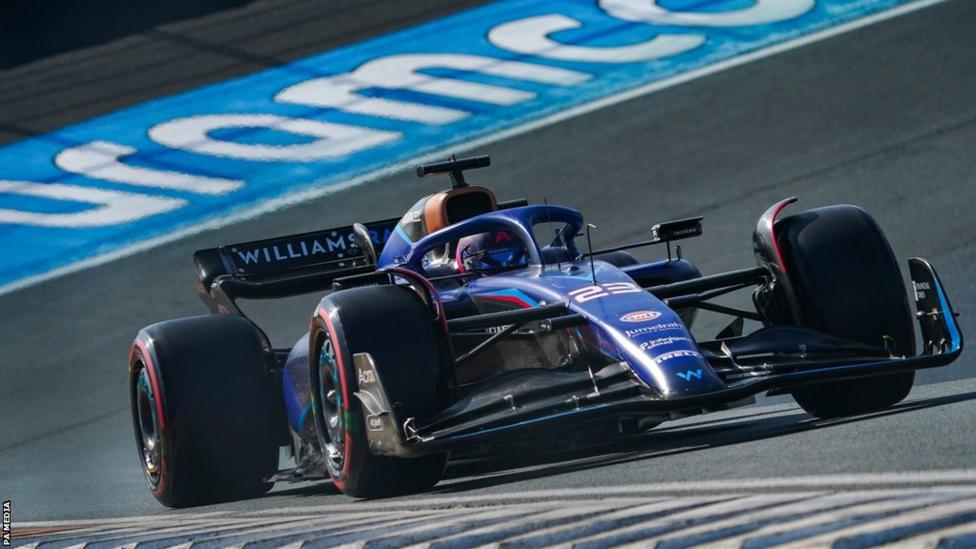 A wet-dry qualifying session on one of the most demanding circuits on the calendar tested all the Formula 1 drivers to their limits, but arguably the standout performance of Saturday at the Dutch Grand Prix was from the driver in fourth place on the grid.
Behind a predictably stunning pole position by Max Verstappen, the now expected frontrunner McLaren of Lando Norris, and a mini-revival from George Russell in the Mercedes, was Alex Albon in the Williams.
Albon has been having a quietly standout season in a team that is being transformed under new principal James Vowles, but this is easily the highlight so far.
Not only was it comfortably the best Williams grid position since Russell's stunning second place in the wet in Belgium two years ago, but it came at a place where Williams were not expected to go well.
Albon, born in London but racing under a Thai licence, had even told Russell on their flight over to the Netherlands from their homes in Monaco that he expected Williams to be "rubbish" this weekend.
"So he got that wrong," Russell laughed after the session.
It was a sensible prediction, though. The Williams is on average the eighth fastest car in qualifying this season, and Zandvoort – with a predominance of corners and a circuit that demands one of the higher levels of downforce of the season – is explicitly not the sort of track where the strengths of the Williams shine. The car lacks overall downforce, and is efficient and fast on the straight.
"It is no secret that we are not normally good at high-downforce circuits," Albon said. "We always think about Spa or Monza; that's the unanswered bit."
How did it happen?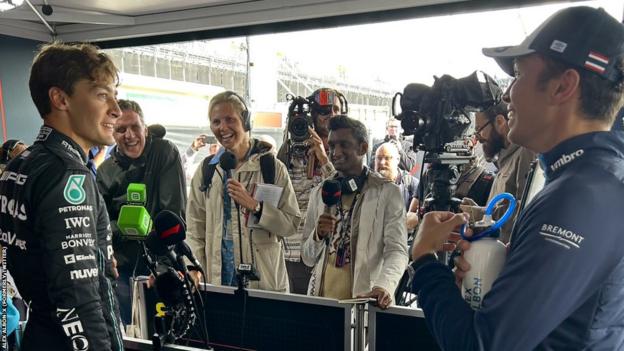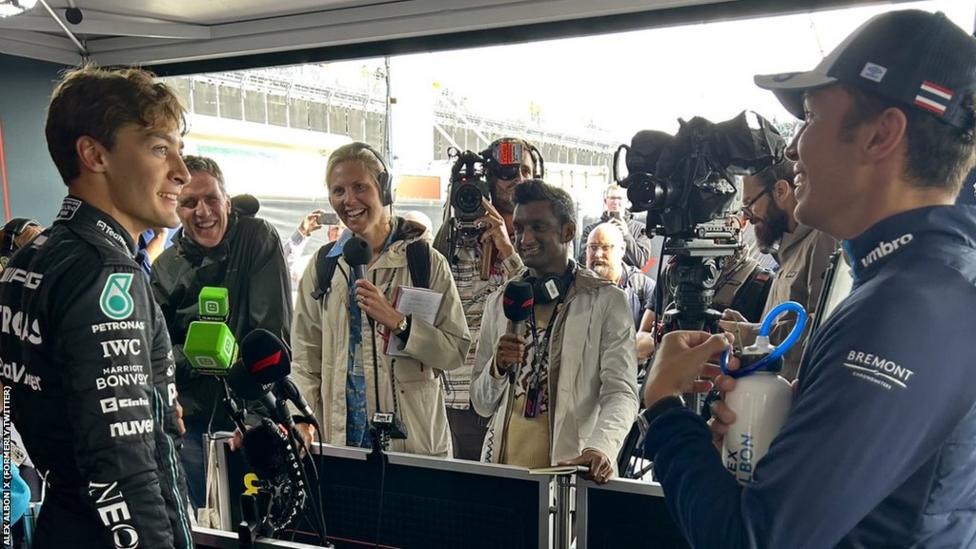 Albon is a cerebral guy, though, so of course he did have an explanation for his surprise start among the top teams.
"The car felt good from the first lap we drove," he said. "Normally when that happens, the others start to chip away at it, but I felt maybe we had hit our sweet spot early.
"We didn't really play too much with the car since first practice and it made me feel confident. And when you add confidence with a track like this – which is narrow and so uncompromising – and mixed conditions, you really just need to feel at one with the car, and I have done this weekend.
"When you have these conditions, it's not always about peak downforce, it's about having a car that's drivable on the limit, and our car has been all weekend."
Albon excelled from the start of practice on Friday, when he was fifth and third in the two sessions. Rookie team-mate Logan Sargeant was also further up than normal, albeit quite some margin behind Albon.
There was an element, Vowles said, of Williams running their car closer to qualifying trim in those sessions than other teams. But it wasn't just that because come the wet weather of Saturday, Albon was still right up there.
Sixth in final practice, he was fastest of all in the wet first qualifying session and third behind Verstappen and McLaren's Oscar Piastri in the second, by the end of which there was almost a dry line.
And in a fractured top 10 shootout, punctuated by two red flags, Albon and Williams got everything just so.
He was quickest again of the handful of drivers to set a time before Sargeant crashed to bring out the first red flag – and a second faster than the American managed before Sargeant misjudged Turn Two and stuck the car in the wall.
And when the session devolved into a one-lap shootout after Charles Leclerc had binned his Ferrari shortly after the restart, Albon did the job again. He was looking good for third on the grid, before Russell pipped him right at the end.
For all that the driver and team excelled in their work, there was an element of fortune involved, too.
As it turned out, the wind direction was perfect for Williams, a headwind at corners where it has traditionally struggled, giving it turn-in bite it would otherwise not have had.
"There has been a really nice headwind in a lot of these corners," Albon said. "Turn Nine and Turn 11 have always been terrible corners for us, where we have been losing 0.2secs each corner. And with a headwind we are almost [level on] lap time, a little slower, 0.05secs maybe, and that's helped us a lot.
"We actually drove this wind on the simulator; we do play around with it. We knew this wind was good for our car, and we got it, which was nice."
Can he keep it up?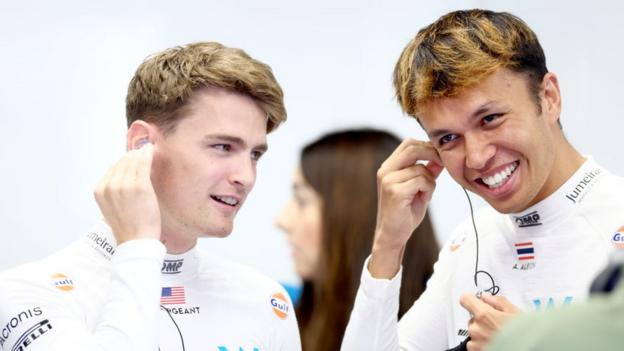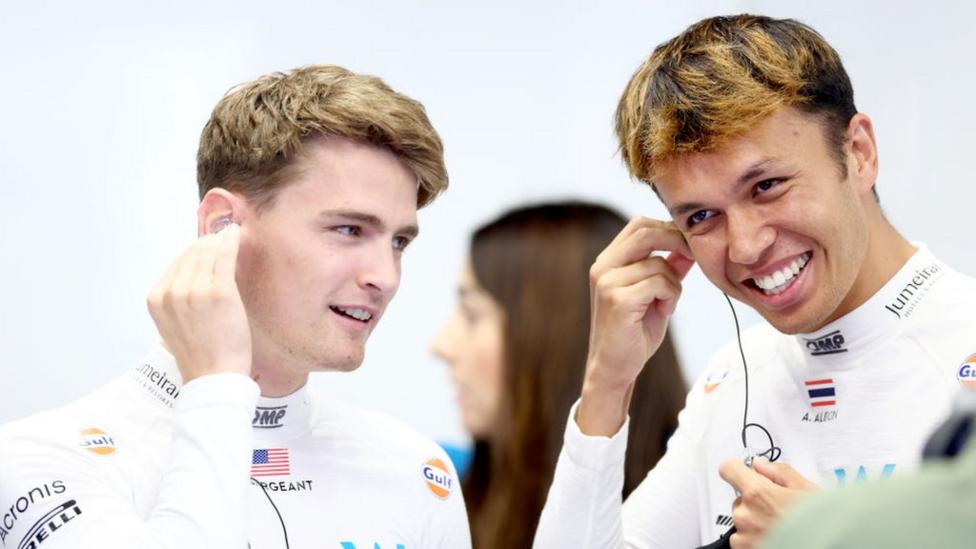 Albon's career has been quite the story, but after being dispensed with by Red Bull at the end of 2021 after struggling alongside Verstappen – who hasn't? – he has been rebuilding his reputation at Williams.
This is a driver who was outstanding in the junior categories, where he was a contemporary of Verstappen, Russell and Leclerc, and always tipped for stardom. But it has taken him some time first to make it to F1, and then to find his place.
Vowles, who joined Williams from Mercedes over the winter, has been busy creating an environment in which both drivers and engineers can excel, and he has been impressed.
"Give a driver the right head space and they work brilliantly," he said.
But Vowles was realistic about Williams' performance, pleased though he was by the achievement.
"I know what's good and bad about the car," Vowles said. "We'll still be quick in Monza next week. It's not like we've got a lot of downforce and drag all of a sudden.
"If this was a dry qualifying, do you think we'd be fourth? We'd be just about in top 10.
"What you're looking at here is not downforce. We executed as well as we could, maximised it. Wind direction favourable. This track has some unique features too to block wind at certain points. But in the race we'll drop back."
Albon said: "Race pace was respectable but not top tier. All the top-tier teams are around us, directly behind me, so it's going to be a tough race."
In Canada a couple of months ago, Albon hung on to finish seventh after qualifying 10th by exploiting the Williams' efficiency and good top speed to precent people passing him on the straight.
Albon says the same will not be possible on Sunday, even though overtaking is notoriously difficult at the 'new' Zandvoort – in contrast to its reputation when in a longer, faster layout it was known as one of best tracks for racing in its previous eras in F1 in the 1960s, '70s and '80s.
"We are not top of the speed traps," he said. "We have been very midfield. The Alpines and Ferraris have been running quite a lot less downforce than us so we can't do a Canada. We have to be quick on pace or we will get overtaken."
The race at the front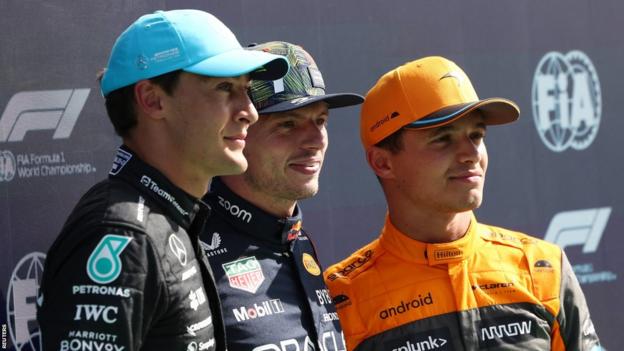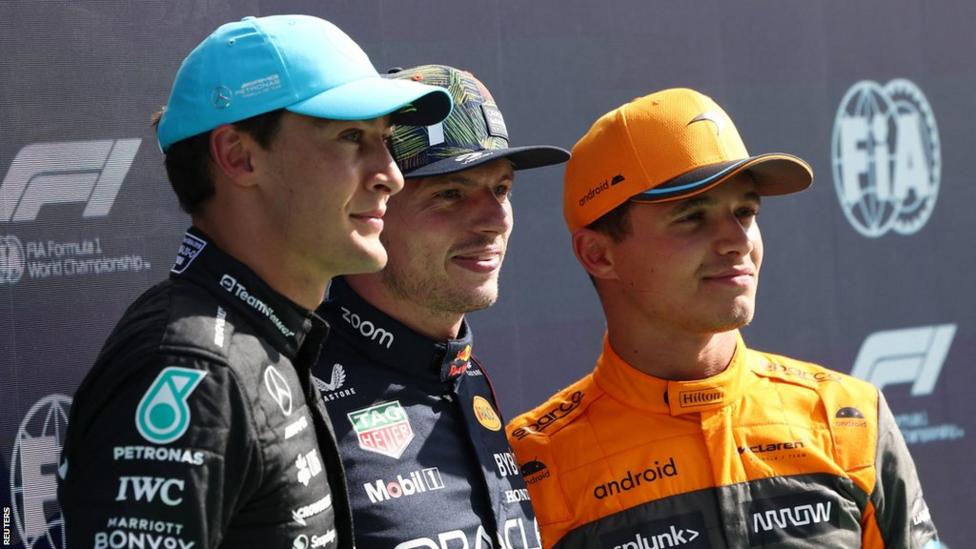 Everyone knows who is likely to win the race on Sunday. Verstappen has been as imperious as ever this weekend, to the delight of the 'orange army' of Dutch fans who are cheering his every move at this race that was literally made for him.
Not only was Verstappen 0.537secs quicker than Norris, whose McLaren had looked through the weekend as if it might be a threat for pole to upset the party by the North Sea, but there was a 1.313secs chasm between him and team-mate Sergio Perez in the difficult conditions.
It was a reflection of a question that has been spinning around the F1 paddock for a while now this year. Clearly the Red Bull is the best car on the grid, especially in race trim, but how much of its advantage is the car and how much its lead driver?
"Bizarre," Mercedes team principal Toto Wolff said after qualifying when asked what he thought about the massive gaps Verstappen has been putting on Perez since the fifth race of the season in Miami. "Checo is not an idiot. He is a grand prix winner. And he was at Racing Point (the former name of Aston Martin). So I cannot comprehend.
"We have seen Max has destroyed every single team-mate that was with him. Whether it's his ability to create a car around himself that is just very tricky to control but fast if you can and that makes those gaps. But odd."
Barring a problem of some kind, Verstappen will waltz off into the distance on Sunday to take his ninth consecutive victory, and equal the record set by Sebastian Vettel with Red Bull 10 years ago.
Verstappen said: "After five wins in a row or something, Seb texted me and said: 'Well done what you're doing. Keep it up – you're going to do it.'
"I was like: 'That's nine wins in a row; that's something very impressive.' And I never thought I would be already on eight. But it's not something that's constantly in my head. I am not in the sport to try and break records, I'm just here to win in the moment."
But who will be second? Albon clearly doesn't fancy his chances. Perez will likely have his sights set on making it a Red Bull one-two from seventh on the grid, and the smart money would be on a battle between him, Norris, Russell and the Aston Martin of Fernando Alonso, who starts fifth, for the podium places.
Norris said: "I'll challenge Max for probably two laps and then he'll drive away. There is quite a bit of tyre degradation here and that's not our forte, let's say. When it starts to come into play, we start to struggle in certain corners. I'm going to give it a try but Max is always on another level on Sundays."
Russell said: "It's going to be a good race. I don't think we will have the pace to fight with Max. He's in a bit of a league of his own at the moment. But I'm confident Lando and I can have a good fight.
"Great to see Alex up there in P4. He'll probably be in the fight at the beginning of the race and then we will have to see the progress of Checo. He is probably going to be the next threat from behind."