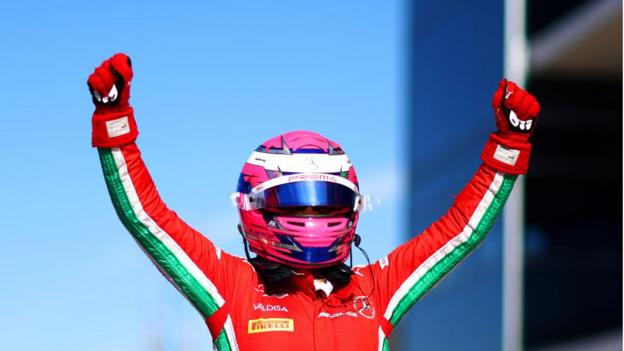 Formula 1 Academy winner Marta Garcia has been handed a fully paid-for drive in the 2024 Formula Renault Eurocup by Alpine (Freca) series.
The 23-year-old will compete for the leading Prema team in the category, which is a stepping stone between the Formula 4 and Formula 3 series.
Funding will come from F1 Academy, car maker Tatuus, Prema and F1 tyre supplier Pirelli.
Garcia said she was "thrilled" and added Freca would be "a big step".
F1 Academy managing director Susie Wolff said: "F1 Academy is all about progression and creating more opportunities for young women across motorsport, so to offer a fully funded seat in Freca for our inaugural champion is a significant moment.
"The fact that she will also continue to race with Prema, whom she has built a relationship with and are current team champions in this category, will also aid in her future development."
Garcia became the inaugural F1 Academy champion with victory in the first of three races at the US Grand Prix last weekend, putting her beyond the reach of rivals Lena Buhler and Hamda Al Qubaisi in the female-only feeder series.
Now the rewards follow for Garcia, who said: "We know we will have to work a lot with the team to succeed but I'm really determined to do well.
"I can't thank F1 Academy enough. It is such a fantastic initiative, and it is the right way to do it, trying to take drivers with the best results to the top level.
"What an amazing opportunity, I'm looking forward to it and to the work that we have ahead, inside and outside the track."
In addition, Freca will from next season allow teams to run a fourth car if they sign a driver who finishes first, second or third in the F1 Academy standings.
For its second season in 2024, the F1 Academy series will reduce the amount of money a driver has to contribute to take part in the series to 100,000 euros (£87,000) from 150,000 euros.