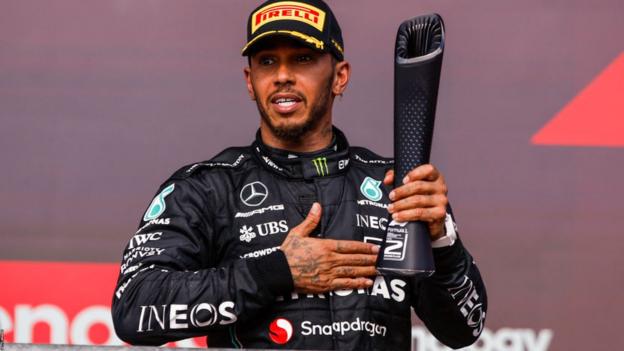 Lewis Hamilton says more cars should be checked after races following his disqualification from the United States Grand Prix.
The seven-time world champion lost second place in Austin, Texas because of excessive wear on his car's skid blocks.
He believes other cars would have been caught if they had been checked.
"What's crazy is they only test four cars, 50% fail," said the 38-year-old Mercedes driver.
"And I've had information from many others that were also illegal but they got away with it. That's messed up."
Only the cars of Hamilton, race winner Max Verstappen of Red Bull, McLaren's Lando Norris and Ferrari's Charles Leclerc were checked for floor legality in Austin last Sunday.
Hamilton and Leclerc were both disqualified for the same technical infringement.
A number of different tests were carried out on other cars.
Norris said that if one car from a team was illegal in such a manner, then there was a high chance the other one was, too.
The floors of Carlos Sainz's Ferrari and George Russell's Mercedes were not checked in Austin. They were promoted to third and fifth places from fourth and seventh by the disqualifications.
Norris said: "I would love if they had checked more cars. It can always bite you. They checked mine first. It's more [across] teams. It's unlikely two [cars in one team] are that different. If one car is illegal then there's a high chance the other car is."
Hamilton, speaking on media day before this weekend's Mexico City Grand Prix, said that he knew of other situations in his time in F1 where similar things had happened.
"There have been many other scenarios like this where some people have got away with certain things and some people have got unlucky and got tested," he said.
"There needs to be some form of better structure to make sure it is fair and even across the board."
Governing body the FIA has long had a policy of carrying out random checks on cars during a race weekend and after a grand prix.
It said in a statement on Thursday that there was not time to check all cars for every possible rule infringement in the time available.
The FIA said: "[The process] exists to ensure compliance with the regulations by virtue of the fact that the teams do not know before the race which specific areas of which cars might be examined beyond the standard checks carried out on every car each weekend.
"Even though a wide array of checks are made, it is impossible to cover every parameter of every car in the short time available – and this is especially true of back-to-back race weekends when freight deadlines must also be considered."
'Sprint' weekend caused problem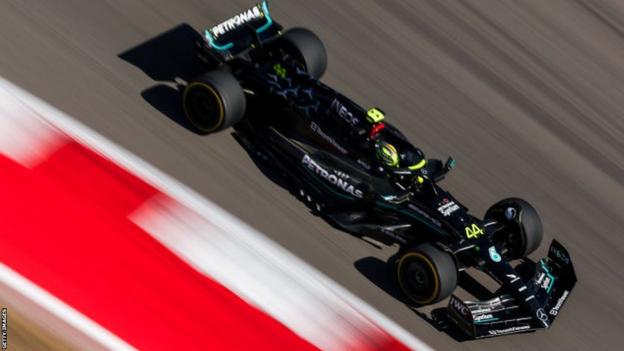 Hamilton said the problem with his car happened because Austin was a 'sprint' weekend, on which teams have to decide the set-up of their cars after just one practice session, and Mercedes made a mistake.
Verstappen said his car had not been as competitive as it could have been because Red Bull had been too conservative with their ride height.
"With just one session to set up the car, it is bit more hit and miss. We went too safe and they clearly went too aggressive. That's how they got excluded," said the world champion.
"We know if you drop the car you gain performance, so you have to be a bit careful. We were not at our strongest for those reasons."
But Hamilton denied that Mercedes were chasing performance by running the car low in Austin.
"Last year, our car was best when it was super-low, so we were [running] low and stiff," said Hamilton, who finished just two seconds behind Verstappen in the race in Mercedes' most competitive performance of the season.
"Our car works better at high ride heights now, so it's not that we were pushing the car to be too low. It was just an unfortunate scenario.
"A 0.05mm failure on the rear skid is not going to make the difference between winning and losing, so that error was not the reason we were as fast as we were.
"That's why it is a bit painful for us. We are hopeful the performance will continue this weekend."
Leclerc said his car's transgression was also not a performance advantage.
"Of course it hurts but rules are rules," he said. "We are talking about such tiny numbers that a kerb hit in a bad way could have made the difference. It is very fine, we are speaking about 10ths of mm. The smallest margin possible that has absolutely no effect but rules are rules and we deserve to be disqualified."
Mercedes hopeful on upgrade
Hamilton and Russell said they were confident Mercedes had made a step forward with a new floor introduced on their car in Austin and were hopeful the progress would also show in Mexico City.
Hamilton felt he could have pushed Verstappen even harder had Mercedes chosen a different strategy and prioritised track position over the Red Bull driver rather than delaying their first pit stop.
Hamilton said: "Being able to feel the upgrade is one thing, which is always what you will do but with the way the car has been the last year we have had something and you wouldn't be able to feel it.
"The rear end is all ways the area I wanted improvements. Because of the lack of rear end [grip] we have, we have that lack of confidence to attack.
"That step gave me the confidence to send it more and I need more. It was a great feeling from lap one. And because of that if it was a 0.1secs upgrade, I probably got 0.2secs out of it."
Russell added: "The upgrades were performing really well. That was clear with the performance.
"We had some concerns on my side. I was managing fuel for half the race but the last stint we went for it and the pace was among strongest out there, which bodes well for the end of the season."